Friends of Moston Brook are an affiliated  Friends Group
Moston Brook: Walks, Woodlands and Wildlife
Moston Brook valley is a green corridor which links Failsworth and Moston. It's a haven for wildlife and a green oasis in the city.
The Brook has four large areas of green space:
Wrigley Head which links to the Rochdale Canal at the Failsworth /New Moston boundary. It has lots of circular short walks and is good for wildlife spotting.
Hardman Fold with meadows, woodland and a waterside walk.
Broadway incorporating Lower Failsworth Memorial Land. This is adjacent to Lower Memorial Park. Part of this land was purchased by public subscription after the First World War as public open space for the residents of Failsworth. This is the site on which we plan to hold our annual Moston Brook Fun Day and other outdoor events
Moston Fairway is a Lancashire Wildlife Trust nature reserve. It is a remarkable piece of marsh in an urban area. It produces colourful (and colourfully named) plants including marsh ragwort, sneezewort and lady's smock. Heather and orchids grow on the site and white and yellow sedge, both rare in the county.
The Moston Brook Project, supported by Manchester City and Oldham Councils is working with local communities to transform the Brook into a clean, green space for people to enjoy nature on their doorstep. For further info please contact Ann Bates, Moston Brook Project Officer, ann.bates@oldham.gov.uk or tel. 07801 204 804.
Pupils from Broadhurst Primary School use Moston Brook as an outdoor classroom and natural play area
Local residents have set up at Moston Brook Friends Group. The group meets up every second Thursday of the month, 6.15pm at the Lancaster Club, Broadway. Everyone is welcome.
The group are planning access improvements, events, volunteering sessions, guided walks and nature activities. If you are interested in becoming a member of Moston Brook Friends Group or would like any information about the site or events please contact Ann Bates at ann.bates@oldham.gov.uk or email the group at mostonbrookfriends@gmail.com
Craft Workshop & Wild Shape Hunt  Moston Fairway
Sun 30 October 2016 11:00 – 13:00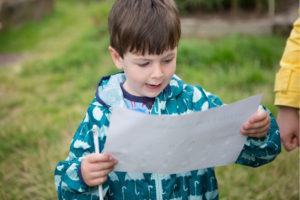 Description
We're back again for another FREE Muddy Event…join your young explorers for another exciting adventure! We'll be treating you to our classic craft nature activities and a superb wild shape hunt. After searching high and low for wildlife in all shapes and sizes, you'll have the chance to craft your own nature crown and create a marvellous Muddy Puddles sign! You can even mix and match your treasures to make some truly special shapes. Our friends at Little House of Science have also provided a fun science based activity for you to try out.
Please meet at the entrance to the Moston Fairway nature reserve adjacent to the car park. This is a free event however booking is essential. Please book one ticket per family. Bookings are via the Eventbrite.website.  For further info go to:
https://www.eventbrite.co.uk/e/craft-workshop-wild-shape-hunt-manchester-tickets-27730002183
http://blog.muddypuddles.com/register-half-term-free-muddy-events/